~ C1 is 12 months & 3 weeks ~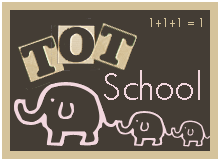 Our baby is in serious teething mode at the moment and we haven't had the best of weeks. In fact he basically spent the entire week in my arms, his poor little gums have been so sore.
I had thought that he cut all 4 of his 12 month molars but either they have gone back down or only two had actually come through in the first place.
It's definitely been a tough week for both of us and it looks like the teething is still going. Grabbing a camera was the last thing on my mind and anyway, there wasn't much Tot School snaps to take, since he was on my hip the majority of the time.
I did manage to get these, yes the photo's are terrible, obviously my lack of sleep is showing in my photography skills!!
This little 'horsey' is a hand me down from his Aunty and although he struggled at first he quickly mastered the technique of climbing on and off. Moving, well that's another story, it doesn't help that he can only just get his little toes to touch the floor though!

That's it from me this week and considering this post is already a few days late I doubt I will make Tot School next week. Hopefully in a week or so all teething will have settled and things can get back to normal.
We have still being going 'buggy' around here, although I haven't taken many photo's, I will be back soon to post an update.
Make sure you check out the other Tot Schoolers over at Carissa's blob.